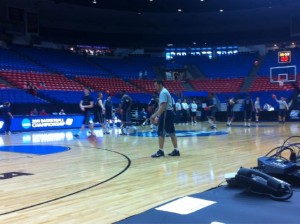 Tucson, Arizona – McKale Center (March 17 & 19: Rounds 2,3)
Why your dad likes Tucson: This one was too easy for me because my dad loves Tucson and has visited the area several times. He likes to tell us all the story of when he was walking through the Sonoran Desert and almost stepped on a rattlesnake. The story is only funny if you know that my dad has an Indiana Jones sized fear of snakes. The other remarkable thing about Tucson is the climate diversity. There aren't many places on this earth where you can find snow covered cacti in the middle of March. There's a reason why Saguaro National Park is one of the most visited parks in the United States.
Signature Food/Drink: Mojitos are really not worth the effort. I once had a friend spend an entire party making mojitos for his guests.  Guy must have spent 4 hours grinding fresh mint leaves. Not to mention, the drink is way to sugary for me. After only one mojito I feel like I may slip into a diabetic coma. Tucson has plenty of food options including fresh Mexican, Indian, and Thai. The food options are reflective of a very diverse population.
College Basketball History: The McKale Center has hosted its fair share of 1st and 2nd round tournament games. In 2005, Adam Morrison – yeah remember him – led the Gonzaga Bulldogs into the second round before they were upset by Bobby Knight's Texas Tech Red Raiders. Here's hoping Jon Leuer finds greater NBA success than Morrison.
Bracket Predictions: Round 2 – (7) Temple over (10) Penn St., (2) San Diego St. over (15) No. Colorado, (4) Wisconsin over (13) Belmont, (12) Utah St., over (5) Kansas St. Round 3 – SDSU over Temple, Wisconsin over Utah St.