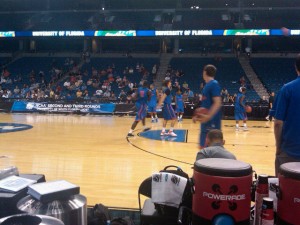 Tampa, Florida – St. Pete Times Forum (March 17 & 19: Round 2,3)
Why your dad likes Tampa: I use to think Florida was a place reserved for Spring Training, strip malls, and retirees. But, as it turns out, there's a whole lot more to the Sunshine State than just palm trees and pavement. As it turns out, Florida also has its fair share of golf courses. With this in mind, what's a father not to like about Tampa/St. Pete? One of my favorite parts of the area is the Sunshine Skyway Bridge which spans Tampa Bay. I have never seen so many people fishing from the side of a highway in my entire life.
Signature food/drink: Why is it that all old people like gin? Don't they realize that there are much better alcoholic beverages available? I once went to a wedding in late August where the only alcoholic offerings were red/white wine, a local craft beer, and gin. Gin! Did they not expect people under the age of 75 to actually attend the wedding? Not to mention the fact that gin, tonic, and 100% humidity do not mix well. I almost passed out before my first sip.
College basketball history: What do you think Jake Voskuhl and Khalid El-Amin are up to right about now? Both players were instrumental in UConn's 1999 National Championship. Of course the star of the team was Rip Hamilton but Voskuhl and El-Amin had what basketball announcers like to call "charisma". I wasn't surprised El-Amin didn't have much of a NBA career. I always figured he had the type of game and body type better suited for the European leagues where teams require their players to take siestas during halftime.
Bracket Predictions: Round 2 – (12) Clemson over (5) WVU, (4) Kentucky over (13) Princeton, (2) Florida over (15) UCSB, (7) UCLA over (10) MSU Round 3– Kentucky over Clemson, and Florida over UCLA