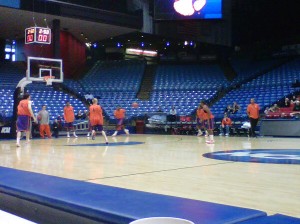 Dayton, Ohio – University of Dayton Arena (1st round: March 15 & 16)
Why your dad would like Dayton, Ohio: I have a few friends who went to Dayton U and swear the middle of nowhere Ohio was a great place to be for 4 years. They say that the school has a tremendous Greek life and an active music scene.  I have never had a reason to visit Dayton and my dad hasn't been there either, which is sort of surprising because normally he loves all things Wright Brothers.
Signature Food/Drink: Besides a few pizza joints and a steakhouse that prides itself on not taking any reservations, Dayton has very little that would rank on a Zagat guide. The most notable thing about the Dayton food/drink scene are the beer and wine drive-thru's.  To those of us living in Connecticut, the "Blue Law" state, the beer and wine drive thru is such a foreign concept. We can't buy beer after 8pm let alone do so without getting out of our cars.
College Basketball History: Dayton has been the host of the NCAA tournament "play in" game ever since its genesis in 2001. This year, with the field expanded to 68 teams, the site will now host a total of 4 games spread out over 2 nights.  I would never argue against more basketball however, what exactly is TruTV and how do I find out if I get the channel?
Bracket Predictions: March 15th: Texas-San Antonio over Alabama State, Clemson over UAB March 16th: VCU over USC, UNCA over UALR.