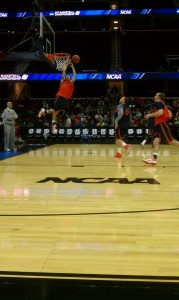 Cleveland, Ohio – Quicken Loans Arena (March 18 & 20 – Rounds 2,3)
Why your dad likes Cleveland: Cause your dad sure does love him some Rock 'n' Roll music.  On the banks of Lake Erie, the Rock and Roll Hall of Fame and Museum has been memorializing things like leather pants, sequined jumpers, and Keith Richards since doors opened in 1995.  This years inductees included Alice Cooper and Neil Diamond, which would make for a heck of a duet.
Signature Food/Drink: Cleveland is home to a few fairly well-known chefs, most notably The Food Network's "Iron Chef" Michael Symon.  His specialty?  Offal.  That's right: there's another guy in Cleveland dishing up "nasty bits" besides Dan Gilbert.  If you do find yourself in Cleveland, in need of some elbow-bending to get the taste of sheep diaphragm out of your mouth, make sure to try the local microbrews, like those offered from Buckeye Brewing and The Great Lakes Brewing Company.  The Forest City is known for it craft beer, and you can find them all at any of The Winking Lizard Tavern outposts, all over metro Cleveland.  (NB: There's a chance that the name of that bar is gross.)
College Basketball History: College hoops in Cleveland starts and ends with Cleveland State, and an unknown history of March upsets.   In 1986, the Vikings upended Bob Knight's 3rd-seeded Indiana Hoosiers, on their way to their first and only Sweet Sixteen appearance in school history. In 2009, the Vikes knocked off 4th-seeded Wake Forest, before bowing out in the second round.  Also, the 6th-leading scorer in CSU history is James Madison – the guard, not the president.
Bracket Predictions: March 18th: (1)Ohio State over (16) Texas-San Antonio, (9)Villanova over (8)George Mason, (6)Xavier over (11)Marquette, (3)Syracuse over (14)Indiana State; March 20th: (1)Ohio State over (9)Villanova, (6)Xavier over (3)Syracuse