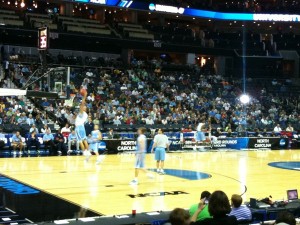 Charlotte, North Carolina – Time Warner Cable Arena (March 18&20: Rounds 2,3)
Why your dad likes Charlotte: If your dad likes NASCAR he's going to love Charlotte. Charlotte, NC is the home of the NASCAR Hall of Fame, which includes a whole lot of old race cars and plaques honoring past racing greats like Richard Petty and the late great Dale Earnhardt. If your dad is an Evangelical Christian, tell him to visit the Billy Graham Library which includes an enormous barn w/ a cross carved into one of its sides. Can't make this stuff up.
Signature Food/Drink: Gotta be the BBQ. This past summer I went to a BBQ festival called the "Pig in the Pines" in of all places St. Germain, Wisconsin. One of the vendors at this gluttonfest was called the Carolina Rib King. So simple, yet so good. How come when I smoke ribs/brisket it never turns out as good? What's the secret? Furthermore, why can't I find good BBQ in Connecticut? The Northeast needs to band together and pledge to create a formidable BBQ recipe that rivals the quality and quantity of the Carolina Rib King, Famous Dave's, and Texas Outlaws. Who's coming with me?
College Basketball History: With 80 games hosted, Charlotte ranks 3rd in total NCAA tournament games behind Kansas City, 116, and Salt Lake City, 83. Not surprisingly, Duke and North Carolina have played in 60 of those 80 games. (I totally made that number up but doesn't it feel like the Blue Devils and Tar Heels are always playing NCAA tournament games in their backyard? And why is Jim Nantz always assigned to those game?
Bracket Predictions: Round 2 – (1) Duke over (16) Hampton, (8) Michigan over (9) Tennessee, (2) North Carolina over (15) LIU, (7) Washington over (10) Georgia Round 3 – Duke over Michigan, Washington over UNC