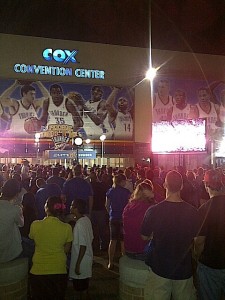 I hope all you young basketball players out there are taking a good long look at Dirk Nowitzki's performance in the Western Conference Finals. Do you see where he is taking and making the majority of his shots? Right from the free throw line. He essentially has one move that cannot be stopped regardless of who is guarding him. I'm pretty sure OKC has tried to stop Dirk with a combination of Kevin Durant, Serge Ibaka, and T. Boone Pickens. Back to the basket, turn and face w/defender giving no space, and drain a 15ft jump shot off of one foot. Cannot be stopped.
Hopefully Dirk's performance is providing incentive for all young hoopsters out there who bypass the elbow jumpshot for the much sexier "triple" that it pays to work on your mid range game. Most young, and old, players gravitate towards the 3pt line where the the hand gestures are much cooler but the FG% is much, much lower.
Nowitzki is bringing the elbow jumper back in style and riding it all the way to the NBA Finals where a potential rematch w/ Dwyane Wade and Miami Heat is looming. Can we also agree that Kevin Durant and the OKC Thunder, much like D Rose and the Chicago Bulls, may be one year away from winning a championship. Durant and Russell Westbrook need to spend a good, long summer together at sleepaway camp where they can reconnect and reestablish the friendship that has made the Thunder roll in the past.