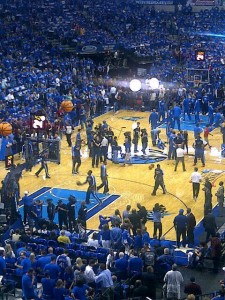 I remember reading "The Lottery", a short story by Shirley Jackson, in high school and thinking: "man, those small town folk sure do have a morbid way of maintaining a sustainable population". For those unfamiliar with the story, the basic premise is that a small village draws straws to see who "wins" the opportunity to be stoned to death by their neighbors. The ritual was established as a mystical way of ensuring a bountiful harvest for the following year.* It's the kind of haunting story you wish Alfred Hitchcock could have turned into a major motion picture starring Jimmy Stewart and Kim Novak.
*What's wrong with a little sun and water you say? Fictional small town folk really do think up the craziest things.
How does Shirley Jackson's tale compare to the NBA draft lottery held Tuesday night in the small village of Secaucus, NJ? It doesn't. Not at all. In fact the only thing still decomposing in the Meadowlands are Jimmy Hoffa's remains. Or perhaps David Kahn's career as Minnesota Timberwolves general manager.
I'm happy that the Cleveland Cavaliers landed the #1 and #4 picks (Los Angeles Clippers what were you thinking?????). Maybe Kyrie Irving and some other frontline player – probably an unknown Euro 7 footer who is a cross between the next Dirk Nowitzki and Darko Milicic – will team up to help heal the city of Cleveland's last remaining scars after Lebron's "Decision".
Overall, the NBA draft isn't what it used to be because, in general, basketball players don't stay in college long enough to build a little brand recognition with the average fan. Consequently, you have a bunch of kids entering the draft who very few people know or care about.
Of course, the NBA could switch things up a bit and model their lottery after the Shirley Jackson's short story. Imagine a scenario where instead of receiving the 14th pick in the upcoming draft the last lottery team is relegated to the NBA Development League. Not to equate life in the D-League to being stoned to death by a group of innocent children but I think you get the point.
view from American Airlines Arena courtesy of @everyoneluvray