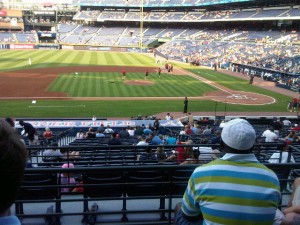 Just when you think the New York Mets are about to cross over the .500 mark, and in the process sweep a three game series with the Atlanta Braves, D.J. Carrasco balks in the walk off run in the 10th inning. To be fair to Carrasco, it was a poor play by 1st baseman Lucas Duda that allowed the Atlanta runner to move up to 3rd base thus leading to a run scoring on the balk. Even still, balks are fairly uncommon in MLB, but a balk to end the game? I can't remember seeing that before.
Heartbreaking loss for the Mets who continue to rise above uncommonly low expectations and play some surprisingly scrappy baseball. But what to do about Jose Reyes? As Buster Olney tweets, the Mets SS is on pace for a remarkable statistical season and will likely command Carl Crawford money, in excess of $140 million over 7 years, this offseason. Can the Mets really afford NOT to resign Jose Reyes? If you don't resign Reyes you are sending the message to your fans that you aren't willing to spend the money necessary to compete and this will hurt a franchise already dealing with attendance issues at Citi Field.
Trade Beltran. Trade KRod. Do everything you can to resign Jose Reyes – unless he pulls another hamstring between now and the end of the season.