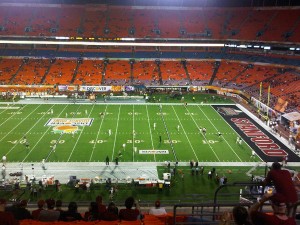 For the playoff edition of our NFL Rankings I have enlisted the help of my old college friend Finch. Finch is a huge New England fan whose love affair with the Pats goes all the way back to the days of Andre Tippett and Irving Fryar.  As a high school quarterback, he even wore a neckroll just like his childhood hero Steve Grogan.
view of the Orange Bowl courtesy of @RuleofTree
1. Patriots (14-2) VMS: If 2008 taught us Patriot fans anything it's that we are one Bernard Pollard hit away from Brian Hoyer and that wouldn't be good for anybody.
2. New Orleans Saints (11-5) Finch: A wild card team will represent the NFC in the Superbowl. WHO DAT!
3 Pittsburgh Steelers (12-4) VMS: The 24/7 documentary on the Winter Classic was some kind of captivating television.  It's such a good premise that I would even consider watching an HBO produced series on Stan Van Gundy.
4. Atlanta Falcons (13-3) Finch: The Dirty Birds three losses were to playoff teams.  That being said, Natty Ice, the cheap beer, wasn't even that good when we were in college.
5. Baltimore Ravens (12-4) VMS: How is it possible that Ed Reed led the NFL in interceptions again this season?  Dude is like 40 years old and missed half the season due to injury. Must be something in the Chesapeake Bay water.
6. Indianapolis Colts (10-6) Finch: As long as Peyton Manning doesn't try to kill another one of his receivers, this team could be very dangerous.  Plus, I can't pick a Jay Cutler QB'd team.
7. Green Bay Packers (10-6) VMS: Aaron Rodgers seems like a real cool cat who probably has a smoking hot supermodel girlfriend, but man, does he sure have some huge nostrils.
8. Philadelphia Eagles (10-6) Finch: I guess Tucker Carlson won't be selling any of his pets to Michael Vick.
9. New York Jets (11-5) VMS: Listening to Rex Ryan talk this week you would think that they have already won the Superbowl. Relax Rex and "go have a goddamn snack!"
10. Kansas City Chiefs (10-6) Finch: I still refuse to pick Jay Cutler and would have gone with KC earlier if their offensive coordinator wasn't bolting to call plays in the SEC.
11. Chicago Bears (11-5) VMS: Are Jay Cutler and Phillip Rivers related? Can this be true?
12. New York Giants (10-6) Finch: Because I refuse to pick a 7-9 team. Hey, you gotta have some standards.
Share your views.