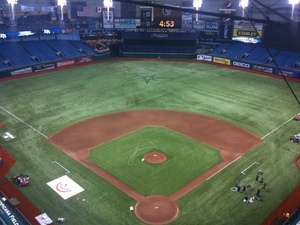 I read the news today oh, boy….
When John Lennon and Paul McCartney were writing "A Day in The Life" I wonder if they had the Baltimore Orioles in mind. I say this because the St. Peppers Lonely Hearts Club Band album was released in 1967 back when Baltimore was still a relevant franchise capable of competing for championships and inspiring fans worldwide. Today, the Beatles still matter while Baltimore hasn't had a winning record since 1997. As a committed Oriole fan – thanks Dad – Opening Day comes bearing all sorts of conflicting emotions. Do I invest in the promise of a young stable of arms and improved lineup or dread the unavoidable fate awaiting after 18 plus games against AL East superpowers Boston and New York?
Seeing as how Baltimore opens their season tonight in Tampa against the Rays, I thought I would share with you a typical day in the life of an Baltimore Orioles fan on Opening Day.
4:33am: Wake up in a cold sweat. Try to fall back asleep by reading Buster Olney, Tim Kurkjian, and Ken Rosenthal all of who once worked for the Baltimore Sun and this year, for the 10th season in a row, suggest that Orioles will not compete in the AL East until Peter Angelos sells the team.
7:00am: Alarm sounds blasting John Denver's "Thank God I'm a Country Boy".
7:20am: Eat a healthy breakfast consisting of coffee, grapefruit, hard boiled eggs, and Old Bay crab seasoning.
7:44am: Start drive in to work. Listening to Mike and Mike in the Morning as Golic mentions that he likes Jacobs Field in Cleveland more than Camden Yards. Switch over to FM, sing along to "Firework" by Katy Perry.
8:30am: Work starts with a morning staff meeting. Boss notices my Oriole tie, asks me if this is the year where the O's finally crack .500. Meeting adjourns, sneak into bosses office to pour Old Bay crab seasoning into his Green Tee Frappachino.
10:00am: First time at computer, mark all emails "as read" then proceed to check fantasy stats from the night before. Notice that I'm already in last place, instantly regret taking John Axford with my #1 overall pick.
11:30am: Lunch comes early. Go out and grab food with coworkers. Cover hot wings in Old Bay crab seasoning. Overhear Yankee fans at the bar lauding their team for the Opening Day win over Detroit. These fans are convinced that the Yankees will follow up last seasons playoff disappointment with another World Series Championship in 2011. Pour Old Bay crab seasoning in their Red Bull & vodkas.
1:05pm: Conference call with corporate. Keep laptop open during meeting to watch first pitch of Astros/Phillies. Roy Halladay looks good. Halladay could have been an Oriole if organization had the prospects to trade Toronto and if Baltimore were still a place where free agents wanted to play. Drizzle a sprig of Old Bay crab seasoning into my eyes.
5:30pm: On way home from work, wife calls to say that we are out of milk. Stop by the grocery store only to run into a troop of Girls Scouts selling cookies. Go to buy a few packages of thin mints when the troop leader, wearing a pink Red Sox hat, notices my Oriole tie and tell me that the "Sawx" are going to win it all this year. I thank her for the cookies before covering a box of Samoas in Old Bay crab seasoning.
7:10pm: Ready for first pitch when infant son begins to cry. Ask wife if she can feed him in a different room so that I can watch the Oriole game in peace. On way out, wife tells me that she wants our son to root for the Yankees anyway. Skip the beer, go right to the whiskey w/Old Bay crab seasoning.
8:52pm: Well played game so far. Jeremy Guthrie gave the team 6 solid innings and Vladimir Geurerro has two hits including a 2 run homerun. Baltimore leads 3-2 heading into the 7th inning. Buck goes to the the bullpen and brings in Michael Gonzalez. Gonzalez proceeds to walk the bases loaded forcing Showalter to bring in Jim Johnson. Johnson's first pitch to Evan Longoria is deposited over the right field fence and into the Ray Tank for a grand slam. Rays 6 Orioles 3. All out of Old Bay crab seasoning.
9:45pm: Final score, Rays 7 Orioles 4. Baltimore falls a game behind the division lead which is sadly the closest they will be to winning the AL East all season long. Kiss baby son goodnight, drive out to grocery for more Old Bay crab seasoning.
11:12pm – Finally get into bed, keep Sportscenter on in the background. Baseball Tonight is talking about the Rays/O's game. John Kruk wonders if all the Orioles offseason moves will make any difference this season at all. Turn off television. Begin cold sweat.