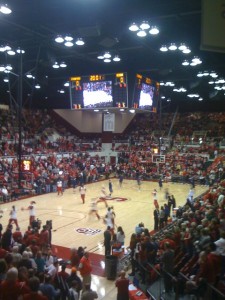 Ben Cortes is living a double life.  By day, Ben is an unassuming Stanford University senior who enjoys international travel and playing the drums. But at night, he likes to dress up. As a tree. That's right, Ben Cortes is the Stanford Band mascot. A few weeks back, Viewmyseats was fortunate enough to ask The Tree a few questions. What follows is not official Stanford University dogma.  Our "fireside chat" is meant only to show sports fans around the country that mascots are real people too.
view of Maples Pavilion courtesy of @zoedunning
VMS: You did a lot of crazy stuff to earn the right to be the Stanford Tree. Tell us, how many other jobs would you be willing to draw blood for?
Tree: Any job that pays. Cash rules everything around us, right? But I'd prefer something that also entails a steady stream of sex, drugs, and rock 'n' roll.
VMS: Does your view from the game allow you to enjoy the action on the field/court or are you too busy shooting t shirts from a cannon?
Tree: I'm actually in a primo position to watch the games. One member of my protection detail (T.P.S. – Tree Protection Service) caught an overthrown football when we played U.S.C. And the Stanford administration doesn't even trust me with a beer when I've got the costume on – they'd never let me anywhere near a cannon.
VMS: The Stanford football team is preparing to play Virginia Tech in the Orange Bowl on January 3rd. Tell us, what's your strategy heading into the big game?
Tree: My conditioning mostly consists of tanning beds and watching Scarface on repeat. For game day, I'm going to upgrade the costume with something that should bring the best of Bay Area culture to Miami. I have no idea what the team's strategy is going to be.
VMS: What advice would you give to high school students who one day aspire to become a college mascot?
Tree: Study hard and get used to sweating. And you'd better like kids, because they'll freaking love you.
VMS: More intimidating Pac-10 mascot: Puddles the Oregon Duck or Traveler the USC Horse?
Tree: Well I hate both of those creatures so damn much, I'll have to rephrase the comparison in the negative: Puddles is such an astoundingly unassuming opponent that he somehow manages to be less intimidating than Traveler, a mascot so stupid that it still walks on four legs and poops in public.
—————————————–
Thanks again to Ben for being such a willing participant. Good luck to Stanford in the Orange Bowl. Hopefully The Tree won't get lost in all the debauchery on South Beach. Remember, Tony Montana is NOT a real person.