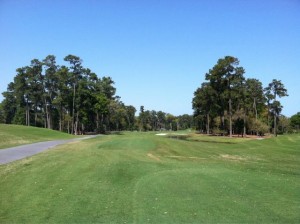 Believe me, I've faked my fair share of injuries. Every summer, right around the time my wife and extended family are ready to take the boat out for a little water skiing, I develop a severe case of left knee "tendinitis" when  all I'm really trying to do is get out of an embarrassing situation.*
*For the record, I'm the world's worst water skier. There is nothing in this world more aggravating, humbling than failing to get out of the water over and over and over again while your family rides along in the boat wondering how long they have to sit there before politely telling you to give up. Brings back scarring memories of my grandfather forcing me into the water and not letting me back on shore until I demonstrated some progress. I still have the facial ticks to prove it.
For the record, unlike many golf fans out there I do not believe Tiger Woods is faking his latest knee/achilles injury a la Al Czervik? I do however now question weather he's going to be able to return to his pre Thanksgiving Day '09 form. For now, I'll just hope he can return to health by the US Open at Congressional. Makes things more interesting that way.