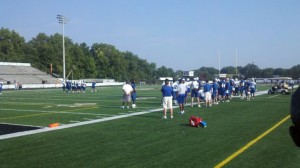 From here on in, until the start of the NFL regular season on Thursday September, 8th, VMS will be offering quick overviews of each division, one NFC and one AFC per week. Next up, the AFC South (*denotes playoff team)
AFC South
Champs: Indianapolis Colts* – For years now, I have wondered how Peyton Manning's elongated neck was strong enought to support his very oddly shaped dome. Well at least now we have our answer. If Peyton isn't healthy, look for Reggie Wayne and Pierre Garcon to lose their you know what after about the 5th time Curtis Painter sails a crossing route over the middle of the field.
On Deck (next up): Houston Texans – Everybody is talking about how the Texans did a lot to improve their defense this offseason. Well I should hope so because last year they couldn't stop Betty White before a snickers. A better defense will also make QB Matt Schaub a little happier. Last season, Schaub led the league in sad faces, 5 ahead of Eli Manning and 2 in front of Jay Cutler.
Limbo (neither up nor down; stuck in between): Jacksonville Jaguars – People are trying to talk us into a QB controversy in Jacksonville and I'm not buying it. David Garrard will be your starting QB this season, that is until Sunshine from Remember the Titans memorizes the playbook. I'm really looking forward to the Jags starting the season 1-5, followed by rumors that they intend to fire head coach Jack Del Rio for the umpteenth time at season's end before finishing 2011 w/ a 9-7 record, just narrowly missing the playoffs and leading to another Del Rio contract extension.
Chumps: Tennessee Titans – What are we supposed to do now that we can no longer marvel at Jeff Fisher and his strangely coiffed stache? I'll miss the Ray Ban and croakie combo too. Last night I was totally caught off guard seeing Vince Young on the Philadelphia Eagles. I figured the Titans were stuck with VY for at least 2 more seasons. And would you believe that Chris Johnson is only set to make $800K this season? I guess if I were that good I would be holding out for more money too.
Fantasy Sleepers: Javon Ringer** (RB – Tennessee), Zach Miller (TE – Jacksonville), Dan Orlovsky*** (QB – Indianapolis
Ready for Primetime Games: 9/25 Pittsburgh @ Indianapolis, 10/23 Indianapolis @ New Orleans, 10/24 Baltimore @ Jacksonville, 12/5 San Diego @ Jacksonville, 12/22 Houston @ Indianapolis
**only if all world running back Chris Johnson continues his holdout for more cash.
*** only if Peyton Manning's neck wasn't fused properly.