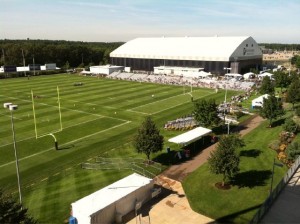 It's not too often that I concern myself with the general well being of an ESPN personality what with all their handsome salaries, fancy cars, and deluxe two bedroom condominiums in Simsbury, CT. But man I tell you, ever since the NFL lockout ended, and the free agent frenzy began, I can't stop worrying that at some point Adam Schefter's head is going to explode on live television just like that poor degenerate gambler who had his head put in a vice by Joe Pesci in Casino. Schefter has clearly usurped Chris Mortensen as ESPN's go to NFL brown nose. But the WWL should be careful with how they treat members of the intelligentsia because at this rate Scheftie is on pace for a Michael Douglas in Falling Down type meltdown. Who would clog our twitter feed then?
Speaking of free agent signings, what move has garnered the most attention so far? Santonio – who my brother in law continues to call "San Antonio"- Holmes back to the Jets? Matt Hasselbeck to the Music City Miracles? Al Haynesworth shipping up to Boston? Or perhaps it's Donovan McNabb to the Minnesota Vikings. I just had to ask Deadspinner, and fellow Colby College alum, Drew Magary where he thinks the Vikings and McNabb are headed in 2011. Understand that right now Drew is considerably busier than most "bloggers-who-use-foul-language-to-make-fun-of-Peter King" what with a massive press tour for his new novel The Postmortal and we thank him for taking the time to respond to our trivial inquiries.
——–
Now that McNabb is about to officially become a member of your Minnesota Vikings, it's time you tell us what Twin Cities delicacy is going to cause the most significant weight gain and why: walleye on a stick from Target Field, the Juicy Lucy, or beer boiled bratwurst (via Wisconsin)?
Bratwurst, I guess?
But seriously, wouldn't you rather just go with Joe Webb or Christian Ponder? And does it really matter who's playing QB for the Vikings in 2011? Pretty sure they are going to have a tough time keeping up with the rest of the division, even the Lions.
It doesn't really matter who plays for them this year, which is why I'm okay with the trade.  It's not like the Favre experiment where they put all their money on the one old QB.  They might even view McNabb as a backup right now.
Have you already purchased a Los Angeles Vikings tshirt? Maybe you would have had a better time trying to publicly finance a new stadium in Minneapolis if the Minnesota state gov't hadn't totally shut down.
My guy Rand still says the Vikings aren't moving, so I'll stick with him until they end up proving him wrong and we both cry.
How, if at all, do you cover the plight of the Minnesota Vikings in your new book The Postmortal? I hope you reserved a special place in Chapter 4 for the Randall Cunningham era.
No Vikings in the book.  The main character is a Bills fan.
Last one, did you ever put your personal laundry in the Chappy bins and if so, did your clothes come out smelling worse than they did before?
Never.  But not a bad idea.
——
There you have it. Move over Schefter! I smell a new football insider. Thanks again to Drew for taking the time to hit send and we wish him the best of luck with his new novel The Postmortal. Here's hoping the book has more success than the 2011 Donovan McNabb led Minnesota Vikings.