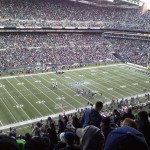 And now for your Wild Card Weekend box score w/words AND pictures.
Seattle Seahawks 41 New Orleans Saints 36
Beast Mode is back! I asked my buddy Casey, a lifelong Buffalo Bills fan, what he thought about Marshawn Lynch's game breaking run against the Saints to which he responded, "why didn't he ever do that for us". (The city of Buffalo just can't catch a break.) I'm no football expert but even a fool could see that the Saints secondary was going to have a hard time defending Bengie Molina legging out an infield single let alone trying to cover those Seattle receivers.
view of Qwest Field courtesy of @Scrubs24
New York Jets 17 Indianapolis Colts 16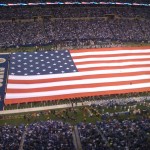 Jets survive, thanks in part to Jim Caldwell and his ongoing love affair with the timeout. Peyton Manning's reaction to the ill advised clock stoppage was priceless. New York now heads to New England to take on the Patriots next Sunday in what will be the rubber match between two division rivals. VMS contributor Dave, a Jets fan, believes the line should be Patriots (-42). Gotta love the optimism.
view of Lucas Oil Stadium courtesy of @janesports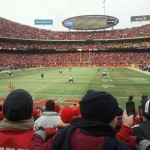 Baltimore Ravens 30 Kansas City Chiefs 7
Clearly the Chiefs weren't quite ready for their closeup.  I hadn't seen KC play all year and therefore had no real idea what to expect when they took the field against the Ravens.  A few observations: 1) Todd Haley doesn't inspire much confidence.  2) Jamaal Charles is a top 3 fantasy pick next season. 3) Was I right about Charlie Weis sandbagging the play calling?
view of Arrowhead Stadium courtesy of @chad_or_vez23
Packers should be scoring more points. What's missing? QB can make every throw. Running game is picking up positive yardage on most carries. Should we blame the coach?  Recently, fans have loved giving McCarthy a hard time for his poor clock management.  One thing is for certain, he's no Jim Caldwell. Lastly, did anyone else catch Joe Buck making a fat joke about Andy Reid during the 4th quarter of the Fox telecast?