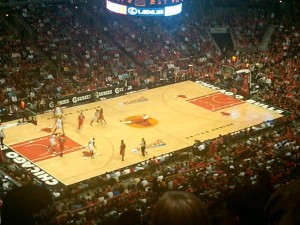 "I've never wished a man dead, but I have read some obituaries with great pleasure." – Mark Twain
It wasn't as emotional as Whitney Houston's. It wasn't as spontaneous as this one in Edmonton. But Jim Cornelison version of the Star Spangled Banner last night before the start of the series opener between the Chicago Bulls and the Atlanta Hawks was still a transcendent moment for American sports fans.
The death of Osama bin Laden marks an important moment in history where Americans can reflect, bring some closure to the events of 9/11 and the now nearly decade long war on terror. Although the threat still exists, as do the scars, Americans can take comfort knowing that our armed forces continue to serve courageously and with incredible honor.
Life is a series a measurable quantities. Peace > War. Good > Evil. Love > Hate. Let's keep it simple, the rest will fall into place.