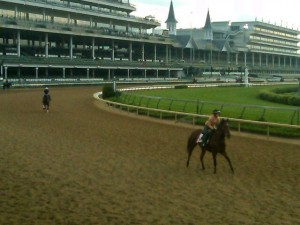 The extent of my Kentucky Derby gambling was a $20 bet on Monarchos to win in 2001. The rest is history and I turned my modest winnings into an end of the semester keg party complete with Natural Light and copious amounts of Cool Ranch Doritos. (Ahhh, the simple things of college.) I haven't bet on horse racing since and now that I'm married, with a 3 month old son, I no longer have the time or resources to warrant a wager on Saturday's 137 running of the Kentucky Derby.
For this post, I have enlisted the help of my lovely wife, who, if possible, knows even less about horse racing than I do.
Note to gamblers: my wife is basing her decisions solely on how the names of these horses connect to important moments in motherhood.
5. Stay Thirsty, 20-1: "The other night, I asked Jon to get me a bottle of water from the kitchen and he proceeded to drink half of it before returning to the bedroom. I don't think he understands how hard it is to be the sole provider of a 3 month old child. My body constantly feels like it is under siege. Think Lindsay Lohan without the addictions and ongoing legal trouble."
4. Mucho Macho Man, 12-1: "Mucho Macho Man is such a catchy name that I have added it to my arsenal of silly, rambling nursery rhymes that I sing to our son. When you have a 3 month old, there are moments during the day when your sole objective is to prevent that child from bursting into tears. If he likes the sound of Mucho Macho Man set to the tune of Zac Brown Band's Chicken Fried, then I'll go with it.
Show. Uncle Mo, 9-2: "This is for Jon and his stupid love affair with Mike Francesa. I don't know what the connection between Francesa and Uncle Mo is but Big Mike seems to be fielding a ton of phone calls on this one horse. Maybe Bruce from Bayside knows something. (Editor's Note: Uncle Mo is now out of the Kentucky Derby. Bruce from Bayside is forever dead to my wife.)
Place. Watch Me Go, 50-1: "I always thought it was disturbing and inappropriate when a group of mothers would openly discuss the bowel movements of their children. Now that I'm a mom, all I want to do when I get together with my girlfriends is talk about bowel movements. Predictable I know, but misery loves company and there are very few things right now as satisfying as comparing the colors of dirty diapers like they were some sort of wallpaper swatch.
Win. Midnight Interlude, 10-1: "My entire existence is one big, long midnight interlude followed by another one at 2:30am and then one more at 4:30am. I have completely forgotten what it means to sleep through the night. Sometimes, I wake Jon up just so he can suffer through the moment with me which I understand is devious and manipulative but when you're the mother of a 3 month old, logic no longer enters into the decision making process."
———-
There you have it. Enjoy the Derby and a Happy Mother's Day to all the moms out there, including my wife!