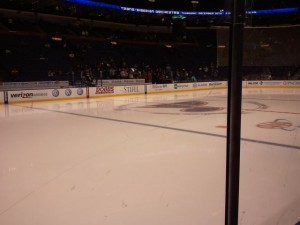 Admittedly, I know very little about either St. Louis or the Blues. The previous extent of my St. Louis Blues knowledge was formed while playing an unhealthy amount of NHL '94 on my old Sega Genesis. (Al MacInnis had an absolute rocket for a slapshot.) So for this post, I had to enlist the help of Dan who is from "the Lou" and a hardcore fan of his hometown hockey team. He was nice enough to share an insider's view of the Blues and their fans.  He even helped me remember that Wayne Gretzky was once a member of the team.  Below is an edited version of our email exchange. Thanks for all the great help Dan. This one's for you Jon Hamm!!
View My Seats: How would you describe a typical St. Louis Blues fan?
Dan: You have to remember St. Louis is a baseball town and the Cardinals are by far and away the #1 team and passion of the city.  The Blues fan base is definitely made up of your core hockey fans.  They are knowledgeable and passionate, but don't have the same lewdness and craze that you would see from Rangers, Flyers or Wings fan.  STL fans were spoiled for so many years because the team always made the playoffs.  The streak of 25+ years was finally broken in 2004 or 2005.  Attendance took a big hit when the team started rebuilding because they lacked a big name without Pronger, MacInnis, or Hull.  Fans have finally started coming back this year with teams strong start.  Nearly all of the home games have been sellouts.  However, I did notice when we at the game last week that it was much more of a family crowd than I remember.  As a result the building lacked a lot of buzz, energy and rowdiness for a Saturday night game against a rival.  (They played Dallas and it was the second night of a home and home).  I was a little disappointed since I had been reading about how great attendance was this year.
VMS: What would an outsider say about the typical Blues fan?
Dan: An outsider attending the game I saw would probably have been disappointed by the fans.   However, core Blues fans are great.  Its just tough being that fan in a baseball town.
VMS: Do fans show up and support their team regardless of their record?
Dan: Fans do show up regardless.  The Blues will never be at the bottom of the league in attendance, but sellouts for games other than Wings or Hawks depend on the teams performance, especially these days.  It was always a sellout before the playoff streak ended a few years ago.
VMS: Can you describe your fondest memories of the Blues?
Dan: Most of my top memories are from the early 90s when we had awesome teams led by Hull, Oates, Shanahan and Joseph.  My top memories are:
A. The Monday Night Miracle against Calgary in the 1986 playoffs.  Wickenheiser scores. (Look it up, its a classic)
B.  Hull scores 50 goals in 50 games (you could also just categorize this as the awesomeness of watching Hull and Oates play together)
C. Gretzky's first game as a Blue
D. The goalie fight between Curtis Joseph and Tim Cheveldae of Detroit.
But #1 would have to be the first round playoff series in I think 19 93 (I can't remember exactly) when the Blues swept Chicago in 4 games. The clinching goal was scored in OT of game 4 and the lasting image is of Chicago goalie Ed Belfour smashing his stick over the crossbar of the net during the celebration.  Keep in mind this was at the height of the Blues-Hawks rivalry. Great moment for any Blues fan.
VMS: Do Blues fans have reason to be excited this year?
Dan: This years team is still young, but very mature.  They've been playing very disciplined team hockey.  They're still mistake prone but they have got a solid blueline and a standout goalie in Halak.   Two biggest questions are can they score enough goals (its been a problem so far) and can they stay healthy (they've had some pretty crucial offensive injuries which isn't helping their inability to score goals).