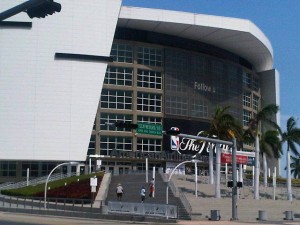 I had an interesting conversation with a friend on Friday night. We were talking about the NBA and Stanley Cup finals and he was arguing that the fans of these two sports are mutually exclusive. In general, his point as a hockey fan was that they don't really care about the NBA Finals and vice versa. As an NBA fan, I felt that his argument was incorrect and incredibly shortsighted.  If there were ever a time to care about both, now is that time. Even I can acknowledge the incredible cross continent fight taking place between the Bruins and Canucks.  So to all those hockey fans out there who are unwilling to give the NBA Finals a chance, here are 3 simple reasons why you should care about Game 6 tonight between the Dallas Mavericks and the Miami Heat.
Reason #1: The superstars play the hardest. It's true. The best players in the game tonight – Dirk Nowitzki, Dwyane Wade, and LeBron James, are also the hardest workers.  A lot of non NBA fans are turned off by the perception that all NBA players are self promoting, narcissists who thump their chests after every made layup. And although this may still be the case for some – see Chris Bosh – the majority of NBAers today genuinely care about giving their best effort.
Reason #2: For hockey fans that appreciate a good rivalry, this series has all the essential ingredients . The Dallas Mavericks and the Miami Heat do not like each other. The James and Wade video mocking Nowitzki's illness is just the latest in a long line of competitive animosity between these two sides. Wade and Nowitzki have had a rivalry since the Heat beat the Mavs in the '06 finals and the style of these two teams couldn't be any more different. The Heat are South Beach glamor personified while the Mavs have come to symbolize veteran savy and work ethic.
Reason #3: LeBron James is the most polarizing figure in professional sports today. Picture the amazing physical skills of Alexander Ovechkin coupled with the disdain for your least favorite politician. This is the complicated formula that besets LeBron as he prepares to take the court in Game 6. Publicly vilified for "The Decision" but universally lauded for his amazing basketball ability, LeBron has been unable to come through in the 4th quarter of this series when it matters the most. All of the pressure rests on his shoulders tonight. Will he help the Heat stave off elimination and send the series to a game 7 or will he head into another offseason in pursuit of his first, elusive NBA Championship?
Stay tuned hockey fans, there is something for everyone in the 2011 NBA Finals.
view from outside the American Airlines Arena courtesy of @aguilaruben