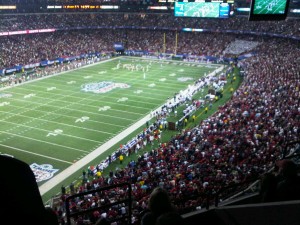 TicketCity Bowl: Northwestern vs. Texas Tech(-9.5)
January 1, Noon ET (ESPNU)
"Analysis": The first of the New Year's Day bowl games. This could be the earliest I ever break my New Year's resolutions. "I will no longer drink to make things tolerable."
VMS Pick: Texas Tech
view of the Chick-fil-A Bowl courtesy of @rgpgreenville
Outback Bowl: Florida(-7.5) vs. Penn State
January 1, 1 pm ET (ABC)
"Analysis": 7.5 points?! Tell me how. Unless Joe Paterno is lined up under center, there's no way that the Lions should that big a dawg. Also, I won't watch this game, because none of the players are good.
VMS Pick: I refuse.
Capital One Bowl: Alabama(-10) vs. Michigan State
January 1, 1 pm ET (ESPN)
"Analysis": This one's more like it. I'm sure the good people of Orlando were thrilled when The Tide lost a couple of games, placing themselves out of the BCS picture. With the Spartans just missing out on the Rose Bowl, their attention might be elsewhere, and this one might get late early. Roll Tide (best new commercial on TV)!
VMS Pick: Alabama
Gator Bowl: Mississippi State(-4.5) vs. Michigan
January 1, 1:30 pm ET (ESPN 2)
"Analysis": I haven't seen the Bulldogs play one down this year. But with Disney's infatuation with Shoestring Robinson and Coach Rodriguez, I have seen enough of the Wolverines to know that they only play 9 guys on defense. Not really, but close. If State has a full compliment of offensive players, they'll win.
VMS Pick: Mississippi St.
Rose Bowl: Wisconsin vs. TCU(-2.5)
January 1, 5 pm ET (ESPN)
"Analysis": Badger QB Scott Tolzien is a great Manager of the Game. Horned Frog signal caller Andy Dalton has red hair. You make the call. Wisconsin should be able to run the ball, with three backs (White, Clay, Ball) who combined for nearly 3,000 yards and 34 TDs on the ground.
VMS Pick: Wisconsin