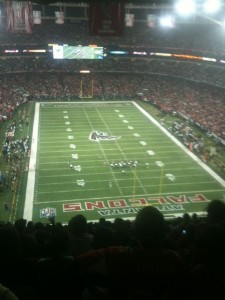 Jacksonville (+13.5) over ATLANTA – Manchester, NH has a better chance of supporting an NFL team long term than Jacksonville.
Dallas (-6.5) over TAMPA BAY – There is very little reason to watch this game other than it's Saturday night and your only other option is Love Actually on the Family Channel.
NY GIANTS (-6.5) over Washington – Chris Collinsworth was right, Jason Pierre-Paul really does look like an octopus.
Green Bay (-13.5) over KANSAS CITY – I can't wait for Green Bay to go 18-0 before losing to the NY Giants in the Super Bowl.
New Orleans (-6.5) over MINNESOTA – Free Joe Webb!
CHICAGO (-3.5) over Seattle – This line could move to Seahawks (-3.5) once Sam Hurd's "client list" is released. Seriously, you're an NFL wide receiver making $1 million a year, what in the world inspires you to go out and sling crack rock outside the Morton's Steakhouse in Rosemont?
BUFFALO (PK) over Miami – Now that Sparano has been fired, I can't imagine this is a very motivated Dolphins team, especially since it will be 38 degrees and snowing on Sunday.
HOUSTON (-6) over Carolina – This one's for Wade!
INDIANPOLIS (+6.5) over Tennessee – Dan Orlovsky was a huge fan of the back door cover going back to his days in Storrs, CT.
Cincinnati (-6.5) over ST. LOUIS – The worst part about that CBB brawl in the Queen City last weekend is that we now have to listen to all sorts of sportscasters and reporters mispronounce "X-zavier".
OAKLAND (+1) over Detroit – I'd like to thank Calvin Johnson for helping me earn the top spot in my fantasy football playoffs and for single handedly costing me any chance of advancing past the first round. Megatron is dead to me.
PHILADELPHIA (-3) over NY Jets – Being a New England Patriots fan in a New York television market has never been worse. Instead of Pats/Broncos in Denver, I'll be stuck with Marv Albert and Rich Gannon live from the Linc. All I want for Christmas is Direct TV.
New England (-7) over DENVER- I feel bad for Lindsey Vonn. Marriage is a long time to wait before having sex again.
ARIZONA (-6.5) over Cleveland – I don't think the NFL had Brad McCoy in mind when they thought about hiring independent neurologists to roam the sidelines during games. But you know what, he's probably better than the trainers they have out in Cleveland.
Baltimore (-2.5) over SAN DIEGO – With a win here, Ravens can put Methuselah out of his misery once and for all.
Pittsburgh (+3) over SAN FRANCISCO – Roethlisberger you old sand-bagging SOB.
Last Week 6-10 (Overall 108-97)
view from the Georgia Dome courtesy of @kmillionaire