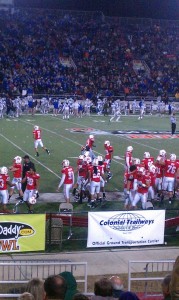 Thankfully the NFL playoffs are upon us because I couldn't take many more nights of the Under Armour High School All American Bowl.
SEATTLE (+10) over New Orleans: Strange things happen at Qwest Field (see Charlie Whitehurst leading team to division title last week). The home of the "12 Man" has a way of stirring the echoes of Seattle's past.  When the great Walter Jones raises the flag before the game tomorrow, the crowd will respond and give their 'hawks a distinct home field advantage.  New Orleans is the much better team, but they're pretty banged up and 10 points is a lot of points for a road team to cover on the road in the playoffs.
New York Jets (+2.5) over INDIANAPOLIS: I fully expect the Jets to go into Indy and avenge their loss to the Colts in the 2010 AFC Championship game.  I watched some of Colts/Titans game last Sunday, a must win for Indy, and came away totally underwhelmed by the Colts.  Maybe if Peyton Manning hadn't tried to kill Austin Collie a few weeks back I would feel better about the Colts chances Saturday evening. As a Patriot fan, getting rid of Indy, one of the two teams along with Baltimore who "matchup" well against New England, is just fine by me.
Baltimore (-3) over KANSAS CITY: Charlie Weis announcing that he's leaving as the Chiefs OC to take over the same position for the Florida Gators next season has had an immediate impact on the way fans perceive the current situation in Kansas City.  How can his decision to leave NOT impact his ability to call plays? For all we know, during the game vs the Ravens Sunday afternoon he will be up in the booth diagramming screen option plays for the Gators big showdown with Alabama next fall (Roll Tide).
Green Bay (-2.5) over PHILADELPHIA: I swore I wasn't going to be one of those people who jumped on the Packers late season bandwagon. But, Michael Vick is clearly hurt, and the Green Bay offense, led by the underrated(?) Aaron Rodgers, will put up a ton of points against an over-matched Philadelphia defense.  It's also important to note that there is a chance of severe weather rolling through the northeast Friday night into Saturday which could very well cause Governor Ed Rendell to have an aneurysm as he reflects on all the pain and anguish that the Eagles/Vikings postponement caused him a few weeks back.
Share your views.