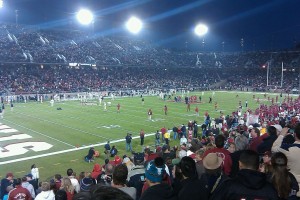 NFL Week 12 (Nothing like a little holiday to set your writing schedule back a few days.)
ST. LOUIS (-2.5) over Arizona – Suggestion. Arizona returns the name Cardinals to St. Louis in exchange for Sam Bradford and a player to be named. The St. Louis Cardinals can now start fresh with a new/old identity and then roll the dice by drafting Baylor QB Robert Griffin III while the Arizona Fighting Fitzgeralds pick up a young QB in Bradford who is sure to make most desert dwellers forget all about the Kevin Kolb Experiment.
NY JETS (-9.5) over Buffalo – It would be so like the bully Jets to take their frustations out on the once proud Buffalo Bills. Question for New York, who would you rather have as your quarterback: Mark Sanchez, Mark Brunell, or Glenn Foley?
CINCINNATI (-7) over Cleveland – With the NBA lockout coming to an end, I guess we won't be seeing LeBron James suiting up for the Browns anytime soon.
Houston (-6.5) over JACKSONVILLE – I mean, all Matt Leinart should have to do is hand the ball off to Arian Foster and Ben Tate a combined 50 times for the Texans to be successful against the Jags. But, this is Matt Leinart after all so I wouldn't be surprised if this thing is won or lost on the very last drive of the game.
Carolina (-3.5) over INDIANAPOLIS – If the Colts don't plan on using the top pick in the 2012 draft on Andrew Luck, maybe they should have a few scouts hang around Lucas Oil Stadium next weekend to watch the Wisconsin Badgers take on the Michigan State Spartans in the first ever Legends vs. Leaders Big Ten Championship Game. Badger quarterback Russell Wilson would be a steal for Indy in the 3rd or 4th round, even though the diminutive QB measures in at roughly the same height as Drew Brees.
TENNESSEE (-3.5) over Tampa Bay – Mark this down as the game where Chris Johnson finally decided to bring the noise. Or he rushes for less than 25 yards again and the Titans decide to cut him on the spot.
ATLANTA (-9.5) over Minnesota – I just realized that none of these Sunday games are any good. I guess that's the price we pay for three stellar contests on Thanksgiving. And, just in case you were wondering, for Thursday I went with DETROIT (+6.5), Miami (+7) and San Fran (+3.5). That 49ers one hurts me the most, thought they had a chance of covering till the very end.
Chicago (+3) over OAKLAND – Upset Special!!!! Upset Special!!! Caleb Hanie does it for the Bears with a big assist from Jay Cutler who'll be watching from the sidelines while wearing baggy sweatpants and one of those stupid looking brimmed winter hats.
SEATTLE (-3) over Washington – As I type the Apple Cup between Washington and Washington State is on in the background and I'm pretty sure Ed Hochuli's younger brother is the referee. Can't be certain however as this Hochuli has much much smaller deltoids.
New England (-3.5) over PHILADELPHIA – Too many injuries for the Eagles who could lose this game and still have an outside chance in the NFC East.
SAN DIEGO (-5.5) over Denver – John Elway is such a flip-flopper that Mitt Romney has decided to make him his running mate in 2012. Hey ohh!!
KANSAS CITY (+10.5) over Pittsburgh – I'm calling Kyle Orton is in at QB for the Chiefs by halftime.
New York (+7) over NEW ORLEANS – It would be just like the Giants to make this a close ballgame.
Last Week 9-5 (Overall 84-76)
view from Stanford/Notre Dame courtesy of @DavidHibiske